Kathleen Ollerenshaw 1912 – 2014
Kathleen Ollerenshaw was celebrated on Day 7 of the cycle ride, Bridgnorth to Leek, Wednesday 10th June 2015. Another day of quiet country roads here crossing the Shropshire Union canal.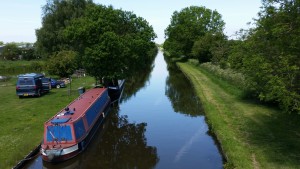 Much more can be read about Kathleen Ollerenshaw on Wikipedia. She was a mathematician, Conservative Councillor for Rusholme for 25 years, Lord Mayor of Manchester, an educationalist and advisor to Margaret Thatcher.
In 2012  she was honoured at Full Council meeting in Manchester on the occasion of her 100th birthday.