Edwina Wolstencroft has successfully bid for the bronze maquette of Emmeline Pankhurst that was auctioned at the statue fundraising dinner in March.
The 40 cm high maquette created by Hazel Reeves was the winning design capturing the unanimous support of the judging panel and winning the popular vote. Twelve copies of the maquette are available as a limited edition.
Edwina, pictured here at the dinner, is an editor on BBC Radio 3.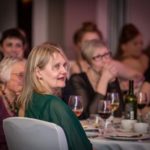 Andrew Simcock, Chair of the Emmeline Pankhurst Statue Campaign interviewed Edwina Wolstencroft for the website.
Andrew: Why were you so interested in buying the maquette?
Edwina: I wanted to make a contribution and support the statue campaign because there are not enough statues of women across the UK. The role of women in public life and the recognition of what women have achieved in history has been undervalued in our society and I'm delighted that this is changing. Initiatives such as this statue campaign are vital to change perceptions about history and to influence future generations. Hazel's statue in particular spoke to me because of its expressive quality and sense of humanity and it captured with elegant simplicity how one woman with a passion to make a change can make a significant difference to all our lives.
Andrew: What are you going to do with it?
Edwina: I just enjoy looking at it with a glass of wine!
Andrew: Do you have a particular interest in  the Suffragettes or Emmeline Pankhurst in particular?
Edwina: I have an interest in feminism and the suffragettes and Emmeline are hugely historically significant. It's both shocking and inspiring to recall what the suffragettes had to go through to get the vote, something which we all take for granted now. Things have improved somewhat for women in the past 100 years but we still have a long way to go to achieve true social and economic equality.
Andrew; Any more details regarding you that I can share?
Edwina: My dad was from Manchester and my grandad was Mayor of Middleton in the 1930s so I have a family history here and lived in Middleton as a small child. So to contribute to a public statue in Manchester meant something personal to me. In terms of feminism I do a lot of work in my role as an Editor at BBC Radio 3 to raise the profile of women composers of classical music, many of whom have been forgotten from history in the way that women artists and scientists have been. As a society we need to reclaim these narratives and ensure that women's achievements are as equally valued as men's.
Edwina's is the first of the limited edition of the maquette to be acquired. For more detail on how to own one of these prized designs click here
Edwina Wolstencroft and Hazel Reeves pictured with the Emmeline Pankhurst maquette in St peter's Square, Manchester where the statue will be located.